Next Show is 2024. Stay Tuned for Upcoming Dates & Info!
What's On – a look back at 2022
Hype!
Kick off the snowy season in style! Come find your tribe – a community of mountain junkies and powderhounds! With destinations, resorts, and equipment, there's a variety of ski and snowboard experts all under one roof!
New Gear
Gonna make this the best season EVER!? Then you need the right stuff! Come find the gear you need, and a deal or two too! Whether you're looking to upgrade that old equipment or you're a newb who needs some expert advice, the 2022 Edmonton Ski & Snowboard Show is the place to be!
Destinations
Get a head start on planning your season!  Find out what's new on the hills and see what  destinations are offering this season! Don't just wing it – make the most of every snow day!
Ebikes
Come check out the first Snow Ebike to land in Edmonton! Just another way to enjoy the outdoors a little bit more this winter!
October 2024
Stay Tuned For Details
Edmonton EXPO Centre
Saturday 10am – 5pm | Sunday 11am – 5pm
THANKS TO ALL WHO CAME OUT TO THE 2019 EDMONTON SKI & SNOWBOARD SHOW!
It was so great! We had an awesome time with all of our exhibitors and attendees, and we loved seeing so many people totally stoked on kicking off the season!
We've got tons of photos to share! We sent some great photographers out on a mission to capture some great memories. Hit the button below to visit our Facebook Page and take a walk down memory lane (or get a taste of what the show's all about!). If you see yourself or a buddy, tag away!
See you again at the Edmonton Ski & Snowboard Show!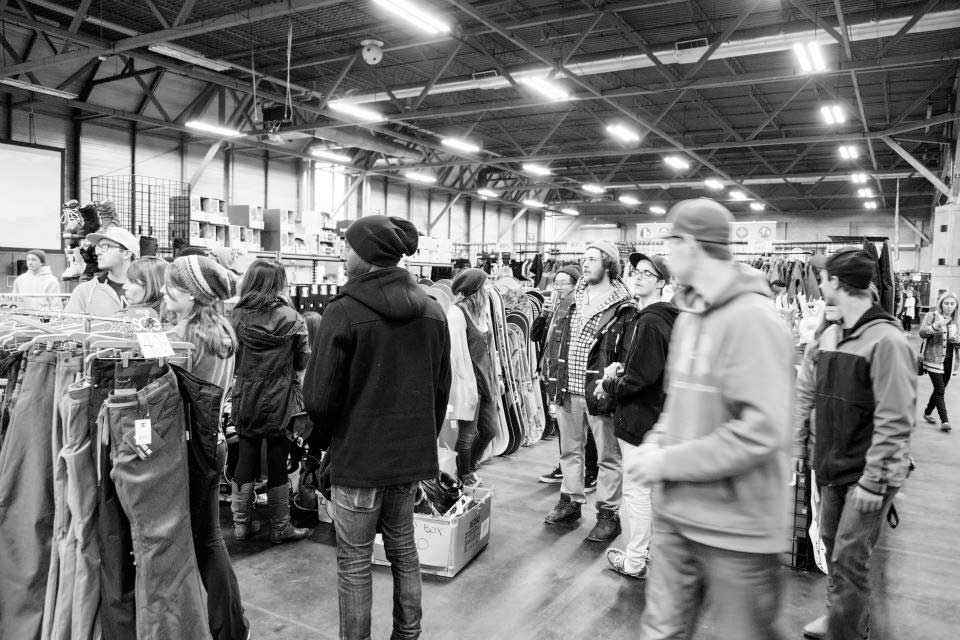 The Edmonton Ski & Snowboard Show provides a large, targeted audience of skiers and snowboarders – powderhounds who are passionate about winter! They love to be active and seek out new adventures, and the Edmonton Ski & Snowboard Show is their kick off to the season!
Our extensive marketing of the event brings in thousands of pre-qualified visitors to the show, allowing you to promote, sell, and generate leads for future sales. This unique opportunity for face-to-face activation allows you to interact with visitors – they can express their needs, get information and find solutions that are tailored to them. It creates a memorable impression and an emotional connection – encouraging sales and consumer loyalty, turning them into your tribe! Be a part of the energy and good vibes at this season's kick off!
These powerful consumers have both the passion and the disposable income to rock the hill every season! Our show provides them the opportunity to gear up for the winter, score some great deals, plan their snow destinations, and revel in powder culture! Will you be there to give them what they're looking for?
successful events since its creation in 2000
Held in a world-class indoor facility

Visitors come for the deals, but stay for the destinations

A great  mix of new & returning guests

Family Productions Inc. has over 25 years of consumer tradeshow experience
Get to Know Us
Family Productions Inc. has been celebrating powder culture by producing the Edmonton Ski & Snowboard Show for over 19 years! We started this event with the input of the ski & snowboard industry, and we love that it's become a place where the community comes together. We are so proud to be going strong so many years later, and stoked about the relationships we have made in the industry.
In our over 25+ years of tradeshow experience, we have forged amazing relationships with local media, suppliers, and event centres. We are excited to bring our passion and experience to you as our client. Want to creep on us some more? Head to www.EdmontonShows.com/about!
To further discuss the benefits of marketing with a consumer tradeshow, and what the Edmonton Ski & Snowboard Show can do for your business, contact us!
Downloadables for Exhibitors.
Application Exhibitor Manual Proper Boothmanship
More Information.
Don't miss your chance to grow your business at the Edmonton Ski & Snowboard Show! To further discuss the benefits of marketing with a consumer tradeshow, and what the Edmonton Ski & Snowboard Show can do for your business,
contact us
!
Booked Exhibitors will be e-mailed the password to the Edmonton Ski & Snowboard Show Exhibitor Manual along with their booth number. Beginning 2-3 months out from the Show, if you are an exhibitor that has not received this e-mail please contact us.
Reviewing it before the Show is strongly recommended.
EXTRAS
Are not included in regular Exhibit Space price.  Advance ordering is recommended.
You can order a number of extras, such as carpet, table, power, lighting, etc. through Family Productions Inc. on the application form. If you did not order extras on your application, or decide you need additional items last minute, please use the forms provided in the Exhibitor Manual.
Phone Lines (ex. for debit), water, storage, forklift services, signage, professional displays, booth vacuuming, extra tables, chairs, and draping are ordered directly from the providers.
You will find the forms in the Exhibitor Manual.
INTERNET
Wireless Internet service can be purchased from the Edmonton Expo Centre.  Purchase and pre-pay with credit card to activate.  Advance sign-up is necessary.
The Exhibitor Manual contains forms for ordering hard-wired internet through the Expo Centre. Hard-wired internet does need to be ordered in advance.
PAYMENT OPTIONS
If you will be conducting sales at the Show, ensure you prepare for the different payment options you will offer.  The Show office does not supply change, and debit machines will require a phone line (Showtech Power & Lighting).  You may also want to consider providing bags for the items that you sell.
STAFF
Needs vary depending on size, nature, and goals for the exhibit.  A minimum of 2 staff is recommended.  Consider managing incoming traffic as well as interaction between staff and interested visitors.  Also account for necessities and comfort of staff, including restroom use, lunch breaks, and a quick lap around the Show to stretch out.  The day can feel very long without these.  Happy staff are easy to spot, and much more approachable for the public. BBW International is an option for staffing solutions.
DISPLAY
Visual appeal is important to an exhibit, so give careful consideration to what you will show and how, along with any interactive activities or demonstrations offered.  Signage is a crucial element, and often benefits from a professional touch.  For those starting out with tradeshow marketing, and anyone wanting to update their exhibit, booth design and rental services are available from GES Canada.
FOOD & BEVERAGE SALES OR SAMPLING
Anyone interested in sampling or selling food and/or beverages off of the Show floor must complete a form for the Edmonton Expo Centre, and abide by the criterion they provide.  Form provided with Exhibitor Manual.  Any questions please contact our office.
Snail-Mail
Send us a letter,
PO Box 22119
Edmonton, Alberta
T6L 0A1
Family Productions Inc. acknowledges we live, work, and play on Treaty 6 territory and Métis Region 4, traditional lands and meeting places of many First Nations people including Cree, Nakota Sioux, Blackfoot, Dene, Saulteaux, and others, Métis people, and Inuit. We express gratitude and respect to those who came before, those who we walk with now, and to future generations.
We are committed to understanding the vision that indigenous communities in these lands have for future generations, and to removing systemic barriers that have, in the past, made it difficult for indigenous people and companies to prosper.