THANKS TO ALL WHO CAME OUT TO THE 2015 EDMONTON SKI & SNOWBOARD SHOW!
It was a blast. We had a great time with Paralympic Snowboarder Michelle Salt, and the Onesie Party on Sunday! Of course, we had a wonderful time with all of our awesome exhibitors and attendees as well. Many great memories were made, and we are all eagerly awaiting the upcoming winter season. We hope to see you next year at the 2016 Edmonton Ski & Snowboard Show.
To see an image gallery of the 2015 Edmonton Ski & Snowboard Show, click here.
(feel free to tag yourselves!)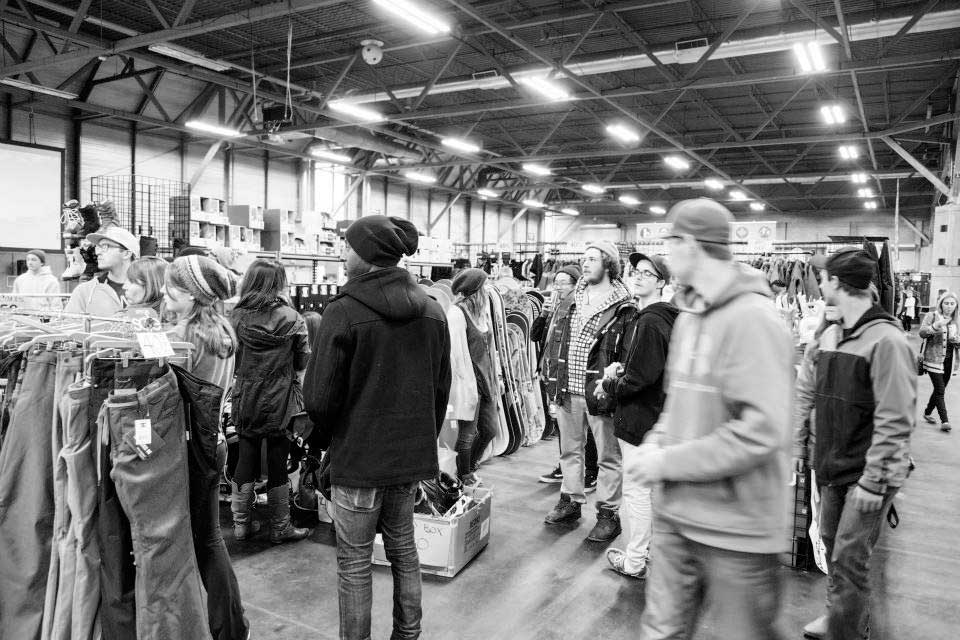 New Gear
Gonna make this the best season EVER!? Then you need the right stuff! All the industry experts under one roof… so you can find out what's new and exciting… and we can support you in your decision to get that new set up! Because everyone needs a little support, right?! Find some of the best deals in all of western Canada. Whether you're looking to upgrade that old equipment, sell some gear, or you're a newb who needs some expertise, the Edmonton Ski & Snowboard Show is the place to be October 22nd & 23rd. Join us as we kick off the snowy season in style! With the greatest entertainment, equipment, destinations, resorts, contests, and awesome activities, this is your one-stop shop for the best in snow sports.
Special Guest & Entertainment
Ever wondered what it's like to be intensive care for SEVEN DAYS on life support? Wow. Only four years ago, Michelle Salt went through just that when she was in a life-threatening motorcycle accident. She broke numerous bones, endured many surgeries, and ended up losing her right leg above the knee. Never one to back down from a challenge, she is now a National team athlete for the Canada Snowboard para-team and became the first ever female Canadian Paralympic Snowboarder at the 2014 Winter Paralympics! Michelle's story of strength and passion for her sport, even in the face of great adversity, is an inspiration to all of us in the snow sports community. 
She was at the 2015 Edmonton Ski & Snowboard Show on Saturday, October 24th and had a wonderful time with you all!
Gear Swap/Sale
The Edmonton Ski Club Winter Sport Equipment Sale is the best sale on the planet. Okay… maybe the best in Western Canada.  Find new-to-you equipment at unbeatable prices – skis, snowboards, helmets, jackets… You name it, we got it! This is also your chance to clear out your closet and potentially make some $$$ on your gently used items.
Burton Riglet Park
Got little ones?! Powder fans were able to get 'em started young at the 2015 Edmonton Ski & Snowboard Show! The Burton Snowboards Riglet Park made a stop at the Show and was a great way to introduce snowboarding to children ages 3-6. Kids tried out Burton's revolutionary kids' products and experienced the Riglet Reel, a specially designed reel attached to the nose of youth snowboards. With the help of the Riglet Reel, instructors towed kids onto features and around obstacles to introduce them to the fun of snowboarding! This helped plenty of kids start weaving around cones and jibbing in no time.
Extra Life Game Zone
At the 2015 Edmonton Ski & Snowboard Show, we were gaming for a cause! We kicked back and relaxed with some of the best old-school and current-gen video games around! Extra Life is for everyone. From Warcraft Warriors to Candy Crushers to Dungeon Masters, Extra Life makes it easy for gamers to help kids by doing what they love. The Extra Life Edmonton team supports The Stollery Children's Hospital where thousands of children are treated each year, regardless of their family's ability to pay. These kids are facing scary stuff like cancer, cystic fibrosis, and injuries from accidents to name just a few. Tons of people stopped by the Extra Life Edmonton Game Zone at the Edmonton Ski & Snowboard Show to do some gaming and find out how you can show some love to children in need!
Onesie Party
Are pants cramping your style?? Onesies took the 2015 Edmonton Ski & Snowboard Show by storm on Sunday, October 25th.  Snow fans from all over Alberta came dressed up in their favourite crazy animal onesies, warm PJ onesies and ski suits to hang out with their fellow powder-freaks and have a chance to win some awesome prizes, including $50 Visa Gift Cards!
The Sunridge New Skier Orientation Area
The 2015 Edmonton Ski & Snowboard Show boasted all of the things long-time snow-fans have come to know and love, while offering an extra push for those who wish to hit the hills for the first time this winter. The Sunridge New Skier Orientation area allowed guests to speak to professional ski instructors from Sunridge Ski Area to get all the tips, while the large variety of retailers (as well as the Winter Sport Equipment Sale) will allow newbies to fully outfit themselves with all the latest gear.
Oct 22nd & 23rd
Edmonton EXPO Centre
Saturday 10am – 5pm | Sunday 11am – 5pm
The Edmonton Ski & Snowboard Show provides a large, targeted audience of skiers and snowboarders – powderhounds who are passionate about winter! They love to be active and seek out new adventures, and the Edmonton Ski & Snowboard Show is their kick off to the season!
Our extensive marketing of the event brings in thousands of pre-qualified visitors to the show, allowing you to promote, sell, and generate leads for future sales. This unique opportunity for face-to-face activation allows you to interact with visitors – they can express their needs, get information and find solutions that are tailored to them. It creates a memorable impression and an emotional connection – encouraging sales and consumer loyalty, turning them into your tribe! Be a part of the energy and good vibes at this season's kick off!
These powerful consumers have both the passion and the disposable income to rock the hill every season! Our show provides them the opportunity to gear up for the winter, score some great deals, plan their snow destinations, and revel in powder culture! Will you be there to give them what they're looking for?
Successful events since its creation in 2000
Held in a world-class indoor facility

Visitors come for the deals, but stay for the destinations

A great  mix of new & returning guests

Family Productions Inc. has over 25 years of consumer tradeshow experience
Get to Know Us
Family Productions Inc. has been celebrating powder culture by producing the Edmonton Ski & Snowboard Show for over 16 years! We started this event with the input of the ski & snowboard industry, and we love that it's become a place where the community comes together. We are so proud to be going strong so many years later, and stoked about the relationships we have made in the industry.
In our over 25 years of tradeshow experience, we have forged amazing relationships with local media, suppliers, and event centres. We are excited to bring our passion and experience to you as our client. Want to creep on us some more? Head to www.EdmontonShows.com/about!
To further discuss the benefits of marketing with a consumer tradeshow, and what the Edmonton Ski & Snowboard Show can do for your business, contact us!
Downloadables for Exhibitors.
Application  Exhibitor Manual  Proper Boothmanship
More Information.
Don't miss your chance to grow your business at the Edmonton Ski & Snowboard Show! To further discuss the benefits of marketing with a consumer tradeshow, and what the Edmonton Ski & Snowboard Show can do for your business,
contact us
!
Booked Exhibitors will be e-mailed the password to the Edmonton Ski & Snowboard Show Exhibitor Manual along with their booth number. Beginning 4 months out from the Show, if you are an exhibitor that has not received this e-mail please contact us.
Reviewing it before the Show is STRONGLY recommended.
EXTRAS
NOT included in regular Exhibit Space price.  Advance ordering is recommended.
You can order a number of extras, such as carpet, table, power, lighting, etc. through Family Productions Inc. on the application form. If you did not order extras on your application, or decide you need additional items last minute, please use the forms provided in the Exhibitor Manual.
Phone Lines (ex. for debit), water, storage, forklift services, signage, professional displays, booth vacuuming, extra tables, chairs, and draping are ordered directly from the providers.
You will find the forms in the Exhibitor Manual.
INTERNET
Wireless Internet service can be purchased from Northlands.  Purchase and pay on-site with credit card to activate.  Advance sign-up is not necessary.
The Exhibitor Manual contains forms for ordering hard-wired internet through Northlands. Hard-wired internet does need to be ordered in advance.
PAYMENT OPTIONS
If you will be conducting sales at the Show, ensure you prepare for the different payment options you will offer.  The Show office does NOT supply change, and debit machines will require a phone line (Showtech Power & Lighting).  You may also want to consider providing bags for the items that you sell.
STAFF
Needs vary depending on size, nature, and goals for the exhibit.  A minimum of 2 staff is recommended.  Consider managing incoming traffic as well as interaction between staff and interested visitors.  Also account for necessities and comfort of staff, including restroom use, lunch breaks, and a quick lap around the Show to stretch out.  The day can feel very long without these.  Happy staff are easy to spot, and much more approachable for the public. BBW International is an option for staffing solutions.
DISPLAY
Visual appeal is important to an exhibit, so give careful consideration to what you will show and how, along with any interactive activities or demonstrations offered.  Signage is a crucial element, and often benefits from a professional touch.  For those starting out with tradeshow marketing, and anyone wanting to update their exhibit, booth design and rental services are available from Superior Show Services.
FOOD & BEVERAGE SALES OR SAMPLING
Anyone interested in sampling or selling food and/or beverages off of the Show floor must complete a form forNorthlands, and abide by the criterion they provide.  Form provided with Exhibitor Manual.  Any questions please contact our office.
Snail-Mail
Send us a letter,
2nd Floor, 4634-90A Avenue
Edmonton, Alberta
T6B 2P9