What's At The Show
IT'S ALMOST HERE
It's almost here at last, the big kick off to the 2013/2014 winter season: the Edmonton Ski & Snowboard Show! Come and celebrate the return of chilly mornings and white capped mountains just waiting to be explored by dropping by the Show to find the very best the industry has to offer.

There's a certain kind of thrill you get when you hit the slopes to break in new gear. Testing the limits of a new pair of skis or a new board, finding out that your new jacket really does keep the chill off at minus 35. The Edmonton Ski & Snowboard Show, 2 full days of nothing but winter thoughts and a whole lot of shopping. A slew of local shops with loads of product from a whackload of brands will be there, along with other useful products & services.
Got your sights set on a weekend getaway or a far-reaching adventure? We're bringing the best resorts to you! You will be able to check out all the packages available on hotels, resorts, and destinations while you pick up a season pass to your favourite hills!
If you're looking to outfit you and/or your family for less, the Edmonton Ski Club Winter Sport Equipment Sale has you covered with awesome new-to-you items.
Whether you're a one or two planker, the Edmonton Ski & Snowboard Show is definitely the place to start your winter season! Stay tuned for details on the Show as we begin the final countdown!
*Shops and vendors restock their booths overnight. You'll still have a great selection of quality gear, at incredible prices, to browse on Sunday!*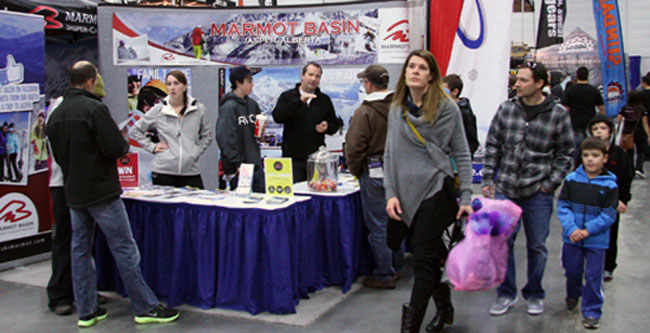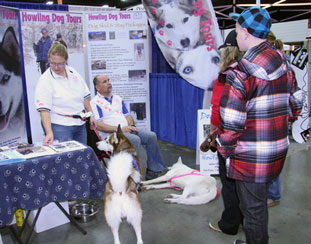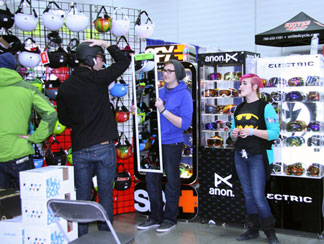 SOMETHING OLD, SOMETHING NEW
Last year, the Edmonton Ski Club Winter Sport Equipment Sale was a massive hit thanks to the Club's volunteers and all the enthusiastic shoppers. We are happy to announce that the Sale is returning for the 2013 Show. The Winter Sport Equipment Sale lets you find new-to-you equipment at unbeatable prices, everything from skis and snowboards to helmets and jackets!
This is also your chance to clear out your winter sports closet and potentially make back some $$ on your gently used items. Looking to bring your items to the Sale? General Public Consignments will be accepted at the Edmonton Ski Club only, located at 9613 - 96 Avenue NW during the following times:
Saturday & Sunday (Oct. 12, 13): 12:00pm - 4:00pm
Wednesday & Thursday (Oct. 16, 17): 6:00pm - 9:00pm
Saturday & Sunday (Oct. 19, 20): 12:00pm -4:00pm
Monday - Thursday (Oct. 21 - 24): 6:00pm - 9:00pm
No consignments will be taken at the Edmonton Ski & Snowboard Show. Items will be consigned at the Edmonton Ski Club location prior to the Edmonton Ski & Snowboard Show.
Each item will be assessed prior to entry for condition, age, etc. If it is entered, a $3.50 +GST administrative fee will be charged per item (to be paid at the point of consignment).
If your item(s) is are sold during the Sale, 25% of the sale price will go to the Edmonton Ski Club to help fund their operation. That leaves 75% of the sale price for you to pocket. **
Cheques will be issued 14 days after the items are sold. **
If your equipment is not sold, you must collect it from the Edmonton Ski Club within one week of October 28th. Any items not picked up during this time will be donated to charity. No exceptions unless arranged with an Edmonton Ski Club staff member. **
All items entered will be up for sale at the Edmonton Ski Club Winter Sport Equipment Sale at the Edmonton Ski & Snowboard Show on October 26th & 27th only. No entered items will be sold prior to October 26th, 2013.
** Applies to General Public consignments only. No guarantee that all items will be accepted by Edmonton Ski Club for sale.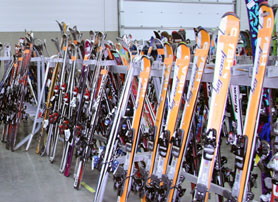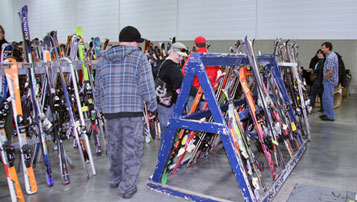 SKATEBOARD MINI RAMP DEMO
We are super excited to be hosting a Skateboard Mini Ramp at the Show this year, featuring some of the top shop sponsored riders in Alberta! After surfing, skateboarding was the next "action sport" to capture the attention of the world. Next to snowboarding or skiing, skateboarding is the most widely participated activity by youths, and a lot of the tricks, obstacles and styles in which snowboarders and freeskiers perform come directly from skateboarding. There's a huge "do-it-yourself" movement in freeskiing and snowboarding right now, and it mimics what skateboarders have been doing for decades – finding areas that can be used for free to progress what is possible!
BIG SCREEN SNOW ADVENTURES IN THE SONiC BEER GARDENS
Looking for somewhere to kick up for your feet? Share some tales from seasons passed with friends? For those of you 18+, grab a seat in the SONiC Beer Gardens and get refreshed! We'll be bringing you high flying snow adventures via a giant movie screen all weekend long to get you pumped up for the fast approaching winter season!
And for those of you who are not 18+, we haven't forgotten about you! This giant movie screen will be visible from the concession area as well for your viewing pleasures.
**all promotions subject to change without notice